Captioning
Communication Access Real-time Translation (CART) is a form of captioning that DSU can provide, remotely or on-site, that displays the voice-to-text translation of spoken English into written English directly onto your device.

Using state-of-the-art technology, DSU captions your videos and live events.
Real-time translation is a form of captioning that providers – known as writers or captioners – can provide on-site or remotely. Captions display the voice-to-text translation of spoken English into written English onto a computer, laptop, tablet, smart phone, or projected screen using a web browser.
Captions provided for live presentations are called "real-time" captions. CART captioning avoids the accuracy issues common with auto-captioning and assures compliance with accessibility requirements. DSU never uses artificial intelligence (AI) captioning solutions. At best, AI solutions are only 60% accurate (meaning 1 in 3 words are inaccurate) and are not considered an acceptable ADA accommodation. 
Captioning can integrate with several different platforms and is used in a variety of settings. Whether a convention, seminar, meeting, interview, class, film screening, or something else entirely, captioning services will enhance the delivery of your message and open events and discussions to even more participants. CART captioning also works well in conjunction with sign language interpreting services. 
You're in good hands.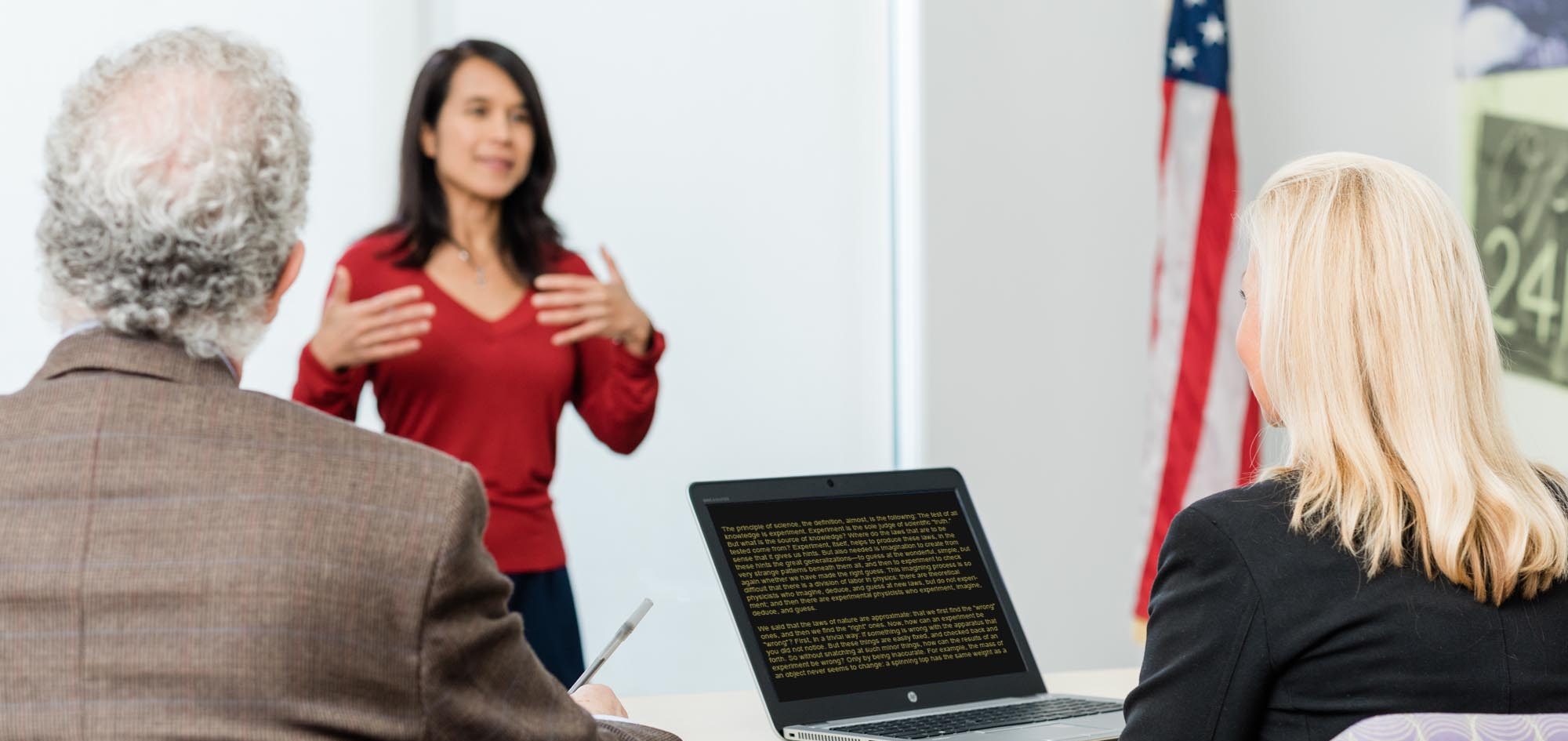 Real-time voice-to-text translation of spoken English into written English.
DSU provides both on-site and remote CART captioning for anyone needing communication access services. These services are typically provided for meetings, classes, conferences, training sessions, or civic events. At the end of each assignment, DSU can provide a transcript of the conversation if requested.
CART captioning interfaces seamlessly with the most commonly used streaming and web conferencing platforms.
Platforms include:
Zoom

YouTube

Facebook

Adobe

WebEx

GoToMeeting

Blackboard

And more!
Additional services
TypeWell and C-Print

These services are similar to CART in that the service providers for both systems can provide a real-time display of the spoken information. C-Print and Typewell providers, however, provide a meaning-for-meaning representation of the spoken information versus verbatim, which has traditionally been the goal of CART providers. This service is typically found in educational environments.

Post-production Captioning

Closed captioning services allow you to make existing video content accessible to those with communication access needs. DSU can help determine which services are best for your needs.

Learn more
We're making conversations happen.
Scheduling an in-person or remote captioner through DSU is as simple as a phone call or click of the mouse.