Another Unique Interpreting Assignment
Deaf Services Unlimited (DSU) Announces Partnership with Deaf Woman Attempting to Become First Deaf Person to Swim Anacapa Channel
DSU is providing staff and interpreters for a momentous September 12th swim.
We are so excited to start discussing our unique partnership between Deaf Services Unlimited and Micki Poole, a 50 year old Deaf competitive swimmer from Greeley, Colorado.
Poole will attempt the Anacapa Island Channel swim of the Santa Barbara Channel in California in September. If Poole makes the 12.4 miles, she'll be the first Deaf person to finish it.
Channel swimming is cold and fraught with choppy water and currents, and there are all kinds of rules to make it harder, for instance the use of wetsuits is strictly prohibited.
"Typically five people attempt this swim every year, and half of them make it", said the president of the Santa Barbara Channel Swimming Association, Scott Zornig.
Channel swimmers typically have their coach on a boat telling them what to do, when to take breaks, and most importantly to encourage the swimmer. When DSU heard Micki's story – we knew we had to help Micki find an interpreter that would match her coach's spirit and enthusiasm… and most importantly help give her an equal playing field throughout this momentous feat.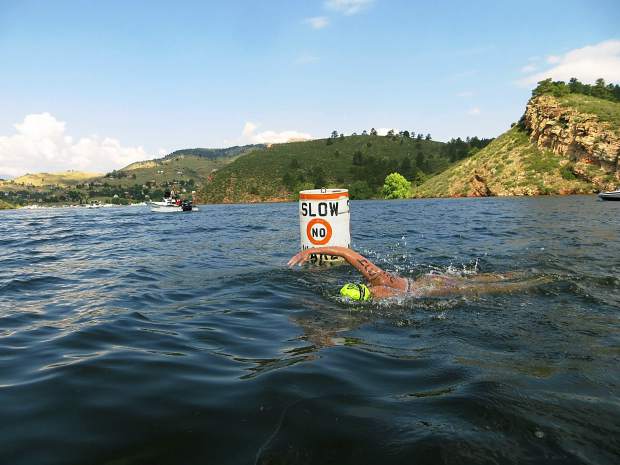 Bethany Koubsky, a DSU interpreter for the past 15 years, will interpret on the boat for Poole. Koubsky met with the swimmer and was selected because of her language match as well as being an athlete herself. Koubsky has competed in triathlons, marathons, and half-marathons. Understanding competition lends itself well to these unique interpreting demands, having insights on what and how language needs to be communicated when you are in the middle of the channel swim.
"I want to thank DSU for helping me find my interpreter. Bethany and I are a good match because we have a lot in common and we make a good team for the Anacapa Channel Swim."
– Micki Poole
Good luck, Micki!! We are so excited to be a part of this journey!