Certified Deaf Interpreting
Certified Deaf Interpreting
A Certified Deaf Interpreter, or CDI, is a Deaf or Hard of Hearing individual that has demonstrated vast knowledge and understanding of interpreting, deafness, and Deaf culture. CDIs have native fluency in American Sign Language (ASL) and additionally undergo countless hours of specialized training in using gestures, props, drawings, and mime. These skills allow them to discern meaning and effectively apply cultural references regardless of which form of sign language is native to the Deaf individual.
Certified Deaf Interpreters work in tandem with hearing ASL interpreters. When a CDI is being used, there will be a total of at least four people in the chain of conversation. That chain will look something like this: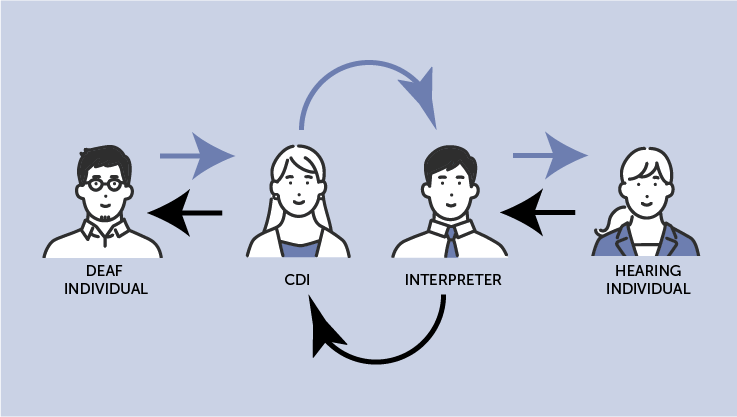 The hearing individual communicates their message to the hearing American Sign Language interpreter.
The hearing interpreter then translates the message into American Sign Language for the CDI.
The CDI takes that message and interprets it for the Deaf individual in a way they understand. This may include drawings, props, or use of universal gestures.
The Deaf individual responds to the message.
The CDI takes the Deaf individual's new message and interprets it into ASL for the hearing interpreter.
The hearing interpreter voices the new message back to the hearing individual.