Deaf History Month
Did you know that Deaf History Month is not a literal month such as January or February, but rather, it covers the period from March 13th to April 15th? The reason for this has to do with four major events in Deaf heritage that all occurred during this time frame.
On April 15, 1817, The American School for the Deaf, the first public school for the Deaf, opened its doors.
On April 8, 1864, President Lincoln signed a charter establishing Gallaudet University as the first college for the Deaf.
On March 13, 1988, the "Deaf President Now" movement succeeded and King Jordan became the first Deaf president of Gallaudet University.
Deaf History Month appears to have begun on March 13, 1997, when the D.C. Public Library had a Deaf History Month event with Deaf authors and guest speakers. It was not originally intended to be an annual event but it took off and has remained one ever since.
The primary purpose of Deaf History Month, as it was back in 1997, is to celebrate key events and/or key people in Deaf heritage.
This year, we at DSU have chosen to honor an exceptional woman named Juliette Low.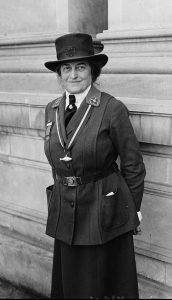 Mrs. Low, (who went by the nickname of "Daisy") was born in 1860 a few months before the Civil War erupted. Her family feared that the Union would take over, so they decided to move to Chicago, where they lived with her grandparents.
At that time, Daisy contracted 'brain fever' from which she recovered, but most likely caused her deafness. Daisy's hearing loss became fully evident at the age of 20.
Despite this major obstacle, Daisy graduated from the Charbonnier's School after which she returned home and met William Low, the son of a wealthy family in England.
In 1886, they married and moved to England. There, she was known as the elegant lady who never forgot her childhood years in poverty, and showed it by visiting lepers, as well as the poor and elderly.
In 1905, William became ill and died. Daisy was lonely and decided to travel and in 1901, while she was in Scotland, she met Robert Baden-Powell, the founder of Boy Scouts of America and her interest in forming a female version materialized.
Shortly after her return to the US, Daisy founded the Girl Scouts of America to help girls learn different things such as horticulture, wool spinning, and to cook with imagination.
She wanted girls to feel good about themselves and she achieved her goal.
In 1919, there were 40,000 members in the Girl Scouts,
In 1927, when Daisy died of cancer, the numbers of Girl Scouts of America increased to 167,000 members.
In 1977, there were over 3,000,000 members and that number remains to this day.
So once again, here at DSU, we honor Juliette "Daisy" Low as one of the great women in Deaf history.