Interpreting Specializations
Different Needs Require Different Solutions
Interpreters use a range of visual communication in a variety of educational settings to convey meaning between hearing and Deaf individuals. Communication needs vary for different people. Talk to the Deaf individual about the type of interpreter that will best meet their needs. It is always helpful to plan ahead and familiarize yourself with the different types of interpreters.
Multilingual Interpreting
Multilingual interpreters have versatility, adaptability, and cultural understanding of English, American Sign Language, and a third language. Multilingual interpreters are used during conversations where three or more languages are being used. For example, a meeting between an English language user, an American Sign Language user, and a Spanish language user would require a multilingual interpreter. 
Tactile Interpreting
Tactile interpreters work with DeafBlind individuals by placing their hands under the hands of the individual and communicating with touch and movement. With extensive knowledge and understanding of the Deaf and Blind community, tactile interpreters can communicate language and visual cues.
Security Clearance
Some government contracts require interpreters to hold a security clearance in order to provide services. DSU is able to provide interpreters with security clearance that are experienced with these assignments. Our organization is also accomplished in the security clearance process and is willing to assist clients through the process of obtaining security clearance for interpreters whenever necessary.
Certified Deaf Interpreting
Certified Deaf Interpreters, or CDIs, have native fluency in American Sign Language (ASL) and additionally undergo countless hours of specialized training in using gestures, props, drawings, and mime. These skills allow them to discern meaning and effectively apply cultural references regardless of which form of sign language is native to the Deaf individual. CDIs usually work in tandem with a hearing interpreter. Deaf/hearing interpreting teams are used when the Deaf individual uses a signed language that is not American Sign Language. When a CDI is being used, there will be a total of at least four people in the chain of conversation. That chain will look something like this: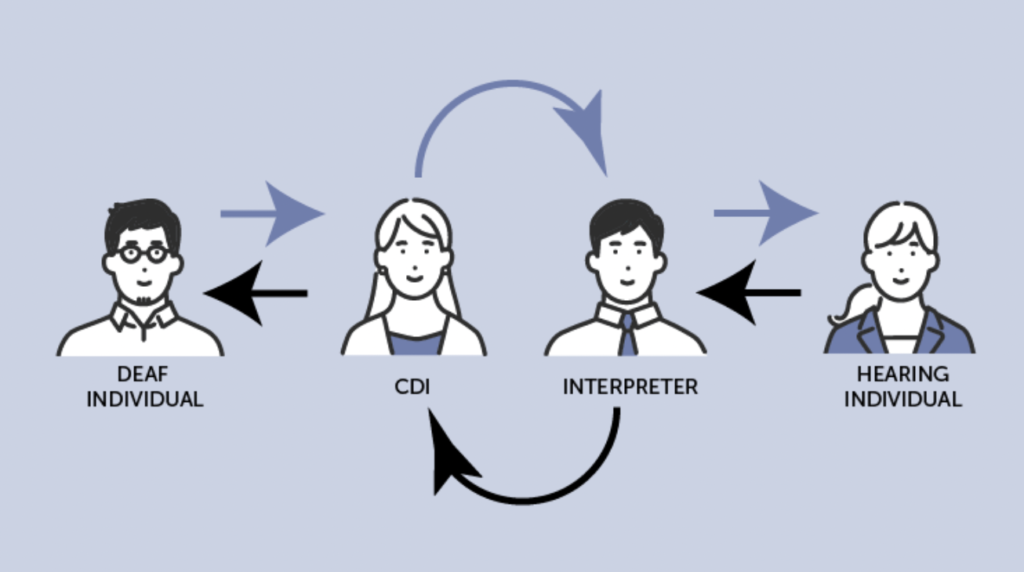 Regardless of your unique needs, DSU is here to provide the services you need, the education necessary to prepare, and ongoing support throughout our partnership.